Online Learning Platform
Automation Academy by WorkFusion
WorkFusion came to us for the re-design of their online learning system: Automation Academy. They had just recently updated their company's style guide so they wanted the current design of their Moodle-based LMS to fit their refreshed brand identity.
We organized a small team of PM and UX/UI designers to analyze project requirements and, together with the client, they decided to re-build the information architecture and user flow and to add a fresh touch to the interface by drawing custom illustrations.
What is Workfusion Automation Academy?
Automation Academy is an online education platform that teaches intelligent automation and RPA for enterprises, SMEs and engineers. The company was the first in the industry to provide Automation Basics courses that help professionals to be informed, trained and certified on AI and smart automation. The courses are one of the best learning systems in automation.
Rebuilding IA and user flow
The first version of the system had a lot of learning paths, with different statuses and progress labels available. Some of them were too long and complex to navigate, so we altered user flows to make the interfaces more understandable for an end-user.
Adaptive wireframes for Moodle
One of the challenges for our designer was to adapt the new design to the requirements of the Moodle platform that posed certain limits on the layout.
Learning platform interface
The main requirement for the UI was to make it user-friendly, well-structured and beautiful.
We needed to highlight each course syllabus, current progress in the course, and course recommendation functionality.
Quiz pages
We rebuilt the structure of questions, added an interactive panel for checked questions and offered multiple layouts for various types of questions.
Mobile adaptation
A lot of learners get their experiences on mobile. So we adapted the main functionality to operate on multiple devices and screen sizes so that learners can continue their education on the go.
Set of illustrations
To liven up the interface and make learners' experience more engaging and entertaining, our designers drew a set of custom illustrations dedicated to artificial intelligence, robotics, and automation processes—everything course-related.

Let's talk
Is there a challenge your organization or company needs help solving? We'd love to discuss it.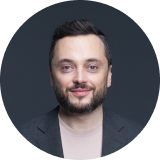 Managing Director, Partner
Andrew Terehin