Our client came to us with an idea to develop and design a web platform for sharing visual content and news about past and upcoming fashion and culture events. The website was to be launched for women (70%) and men (30%) within the 18 to 45 age range. Most of them were art college students and professionals connected with fashion, architecture, and design.
The Agente team performed full-cycle fashion website development from scratch. We were responsible for the entire project conceptualization, as well as creating a fashion business logo and branding. We created a simple-to-use platform, with a thoughtful UI and quick data exchange while uploading content to help spread the word about fashion and culture events.
This is a culture and entertainment online project covering global events in the fashion industry, architecture, and art. Backstage is the place to discover the nitty-gritty of design and fashion from professionals and stay up to date on exhibitions, festivals, and fashion shows.
Right from the prototyping stage of designing a fashion website we kept a minimalist approach in functionality and interactions, supporting the idea of a lean and easy-to-manage platform with no clutter.
Backstage fashion website design makes generous usage of empty space to represent exclusivity. You can see a comprehensive brand identity and photography-first approach, where high-quality images come to the fore.
Building a custom fashion event website meant incorporating a range of features, including a set of categories (fashion/culture/art), content sorting according to the publication date, popularity, hashtag, type, clickable locations and dates that lead to corresponding events; comprehensive search, and author pages as well as content creating and editing.
Results
We developed and designed a fully functional media platform with an exquisite UI and a feature set for covering fashion, art, and culture events around the world. You can find out more about the experience of working with us from the client's review.
Let's talk
Is there a challenge your organization or company needs help solving? We'd love to discuss it.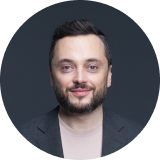 Managing Director, Partner
Andrew Terehin