Cointube — Crypto Tracking App
Cointube is our own product for cryptocurrency assets and news tracking. Back in 2016, in the time of an upswing on the cryptocurrency market, we decided to research how we can help. We found out there was a need for cryptocurrency traders to have the aggregated information about the market rates, the latest news, and the state of their portfolio, in one place. That's how the idea of creating our own product appeared.
We decided to make our new app in the form factor of a browser extension so that a trader can see the aggregated dashboard of the most relevant and fresh news each time he opens Google Chrome. We connected over 50 reputable news sources, cryptocurrency exchange markets, and trading platforms to our platform to keep users in the know. The lightweight and clean interface made the complicated world of cryptocurrencies easier to track.
What is Сointube
Cointube is a new-tab Chrome browser extension to track news, trends, and insights on the cryptocurrency market. Basically, the app's dashboard offers up-to-date and reliable information on markets, cryptocurrency rates, and the state of the investment portfolio, so that a user can make the best decisions every time he trades crypto.
Market insights
By installing Cointube as a browser extension, a user can view market insights and analysis from global cryptocurrency exchanges. The app monitors the most popular currencies based on the size of market capital. It uses the coinmarketcap.com API to mine crypto data.
Newsfeed
The dashboard is connected to over 30 reputable and insightful news sources. Daily newsfeed gives a news overview of blockchain technology, new and upcoming ICOs, Bitcoin, Ethereum, XRP, and other cryptocurrencies
ICO track
ICO track is an aggregated dashboard where a user can keep track of active, past and upcoming ICOs, their hype rates, risk rates and ROI. If someone is researching a new ICO, this type of information can help to compare a new coin to the performance of similar coins in the past.
Portfolio
In the portfolio section, a user can manage your investments across multiple trading platforms and view live currency conversions. One can add or remove a necessary exchange and cryptocurrency and record their purchases and deals.
Track your investments all in one place!
Results
Once the work was done, we conducted usability testing in a focus group to make sure that we understand what users want at the moment and our app keeps up with the current trends.
Let's talk
Is there a challenge your organization or company needs help solving? We'd love to discuss it.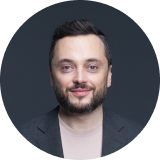 Managing Director, Partner
Andrew Terehin