LMS to Explore Cultural Diversity
As a cross-culture business with more than 75 thousand employees from multiple countries, our client was challenged to overcome any diversity issues that might arise. The company wanted to establish connection and mutual respect between multinational employees with the help of a learning platform that will foster tolerance to people and their traditions.
We engaged in building an online mentoring platform that enables employees to explore other cultures. The platform contains a set of unique features, such as courses in different formats, gamification, personal dashboards, extended statistics on employees' progress, personal profiles, and admin panel to manage courses.
What is a Cultural Diversity Mentoring Platform?
It is a corporate learning platform that provides custom courses on traditions and cultures for multinational employees. It helps learners to become more tolerant of cultural differences and create a healthy atmosphere in the workplace.
UX
One of the initial steps in the employee mentorship platform development was to create high-fidelity wireframes on the basis of references that our client provided. The screens demonstrate all the functionalities the platform possesses rendered in a minimalist design.
Explore Countries
A killer feature of the solution is gamification. After completing courses on world cultures, learners achieve stamps that are collected in their virtual passports.
We performed a full-cycle corporate LMS development from UX/UI design to implementation and QA testing:
Adapted the platform UX to clients' references
Created UI with brand style, colours and fonts
Developed a turnkey solution (frontend + backend) in a short time frame
Performed QA testing.
Results
We managed to build an employee mentoring software with its own CMS. The platform provides obligatory and optional courses in various formats (video, presentations, and texts) and information about corporate events. The app is gamified and allows employees to collect achievements and to view leaderboards, personal dashboards and statistics.
Let's talk
Is there a challenge your organization or company needs help solving? We'd love to discuss it.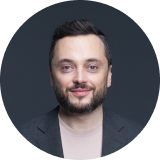 Managing Director, Partner
Andrew Terehin