DrinGet – Food Ordering App
The challenge brought by the client was more than just developing the app for the food ordering and delivery business. In a nutshell, the difficulties of the project were as below:
Ideate and design a food ordering app with a user-friendly interface.
Accomplish app design and landing page development in two months.
Bring empathy and innovation for local logistical challenges.
The team listened to the client's requirements and analyzed the architecture of the food ordering app for their target audience. Our team suggested the following solutions based on the market scenario:
Design wireframes and user experience to speed up order processing.
Gather the best features that can be integrated within the app.
Work on branding and logo design to make the app more recognizable.
What is Dringet
DrinGet is a web and mobile order and delivery system for convention halls, food trucks, concert venues, crowded bars, board game cafes, fairgrounds, festivals, or parks. The app allows you to capture the food and drink orders that you would otherwise lose to long lines.
High-Fidelity Wireframes
As usual, the first steps include the discovery phase, when our research team studies the potential users of the platform, creates user personas and builds customer journey maps. Based on that, a UI designer can work out the wireframes for the future app to prove our ideas.
The first part of the system is a web app for vendors: food trucks or other street restaurant business owners. After successfully logging in they would have access to the following information on the application:
Accept and maintain orders right from the system.
Manage selling items.
View profit statistics from different areas.
Send quick messages to customers.
Assign runners to orders in one click.
Save all orders in history.
Click the right and left arrows to view more screens below.
The statistics page helps vendors to get valuable insights to improve their operations and grow business. On this dashboard, they can find interactive data and actionable feedback about their restaurant, down to the details:
Actionable data to see useful stats like revenue, daily income, and sold items.
The different views are available by a variety of date ranges and items.
Simple and accessible design that helps to understand how the business is doing at the glance.

Landing
For promotional goals, we created a landing page for the app. It is based on attractive illustrations, catchy visualization of the ordering process, and a detailed FAQ.

Results
Our team showed good delivery time throughout the design process and finished the app above the expectations of our client. The client got a fully functional app loaded with user-friendly experience and performance, which helped the businesses get high recognition in their locality and outperform the competitors.

Let's talk
Is there a challenge your organization or company needs help solving? We'd love to discuss it.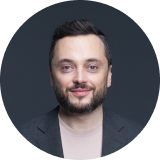 Managing Director, Partner
Andrew Terehin