FQ—Health-minded Fitness App
AI in healthcare is the project we've always wanted to participate in. A recent client presented us with the opportunity to showcase our competencies in weight loss and training planning app development. The challenge was to create a personalized nutrition platform that will unite users from all over the world in pursuit of health and wellbeing.
We conducted deep UX research resulting in a slick UX and UI. We created a fully-fledged native iOS application with a range of functions, including getting recommendations on nutrition and training, subscriptions, weight-tracking, sharing progress with other users, and communicating with them.
About FQ
It is an AI-based planning project that helps to initiate positive changes in users' habits and lifestyles. It promotes a holistic approach to wellbeing and helps users to devise a healthy diet and exercise plans. Men and women around the globe use this social network to form a positive weight loss community, and can support each other on their journeys.
Building High-Fidelity Wireframes
Among the initial steps in weight loss app development is creating high-fidelity wireframes that will support the idea of a health-oriented network. The app is designed for European and American men and women who want to get over their body insecurities and share their results with others.
We started with thorough UX research on a nutrition app design to find out target users' needs and motivations. The app's slick and smooth minimalistic design originates from the following UX elements that we provided our client with:
Informational architecture
User personas
User stories
User flows
UX wireframes
Prototypes
Onboarding Process in Action
After our client approved the app structure, we moved on to the UI design. The minimalistic design approach helps to navigate through the functions with ease. The abundance of green and neutral colors makes positive associations with a healthy lifestyle and wellbeing.
We developed a native iOS application enabling features like a recommendation mechanism on meal and training plans, weight tracking, gamification elements, data sharing, built-in newsfeed, three subscription plans, etc.
Results
Our iOS-native health-minded fitness application automates nutrition planning and training regimes providing users with an ability to share their success stories. The product is fully functional and dressed in a user-friendly design that helps the business to build a strong community of fit and healthy people.
Let's talk
Is there a challenge your organization or company needs help solving? We'd love to discuss it.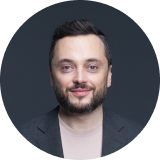 Managing Director, Partner
Andrew Terehin