The task was to create an MVP of a patient portal app where patients can access their information, including personal data, plans, check-up history, previous and upcoming appointments.
After a series of design and development iterations, the client got a fully functional health records app where one can quickly record their healthcare-related activities and find ones in a matter of seconds.
What is Patient Portal App?
With growing popularity of health and medical apps, storing patient records, editing, and sharing patient check-up history, making notes is just a matter of a few taps on your screen. This app is intended to connect people with healthcare professionals and make their personal information visible and available even on the go and on every device.
Login Process
We paid special attention to the login and password recovery screens. The goal was to make these processes as smooth, fast, and secure as possible. It was critical for our client to reduce the potential support requests for password recovery, as it was just an MVP version of the app.
Patient Dashboard
A medical dashboard consists of the preview for the records of patient visits, check-ups, plans, and other activities. Various doctors and nurses can input patient information right after the visit, and this information will be aggregated in the patient portal app.
Icons
We designed a set of medical icons specifically for our client, in order to make the patient portal app more engaging and easy to use for an unexperienced user.
Let's talk
Is there a challenge your organization or company needs help solving? We'd love to discuss it.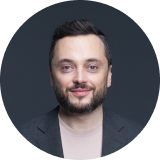 Managing Director, Partner
Andrew Terehin