TOUMBO Mentorship Platform
We were challenged to create web and mobile versions of a mentorship LMS platform. It provides a convenient and creative space in which mentors can advance their workmanship, and mentees can to effectively harness knowledge and skills.
Agente's team offered in-depth market research to identify unique ways in which the solution would benefit all types of users. After that, we delivered the UX/UI design with a brand-new logo book and embarked on an online mentoring platform development.
What is TOUMBO
TOUMBO means " Work!" and is generally used to say "let's work together." It is a platform that helps mentees and mentors to reach their goals. Mentees can find the right tutor for any domain, and mentors can promote and grow their business.
UX Design
Web app user flows
Building a mentoring web platform starts with creating user flows, which are a visual representation of the path taken by an end user to complete a certain task. They form the basic framework of a UX design, and help our designers to understand the features and screens that are needed to optimize the UX.
Wireframes
Agente designers built wireframes to get a clear outline of each page structure, layout, information architecture, and overall direction. We made sure all the elements were correctly placed and didn't confuse users.
Public Website
We have designed an LMS website that is easy to navigate with consistency in colors, typography, and imagery. Aside from promotional purposes, it introduces prospective users to the LMS platform design and allows them to register and explore the functionality, as well as the available Mentors.
Product Design 
for Mentorship Platform
Responsive Design
Our team created an adaptive design for web and mobile for smooth user experience via each medium.
We created a feature-packed mentoring platform which appeals to both learners and educators. Apart from standard LMS functionalities, it offers some extra bonuses:
Results
Agente designed and developed a custom coaching and mentoring online platform with an adaptive design and unique functionality that helps mentors and mentees reach their professional and educational goals.
Let's talk
Is there a challenge your organization or company needs help solving? We'd love to discuss it.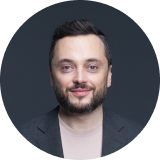 Managing Director, Partner
Andrew Terehin