02 August 2023
Нow to Сreate an Online Learning Platform in 2023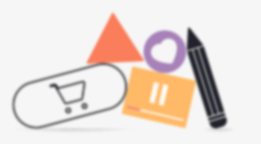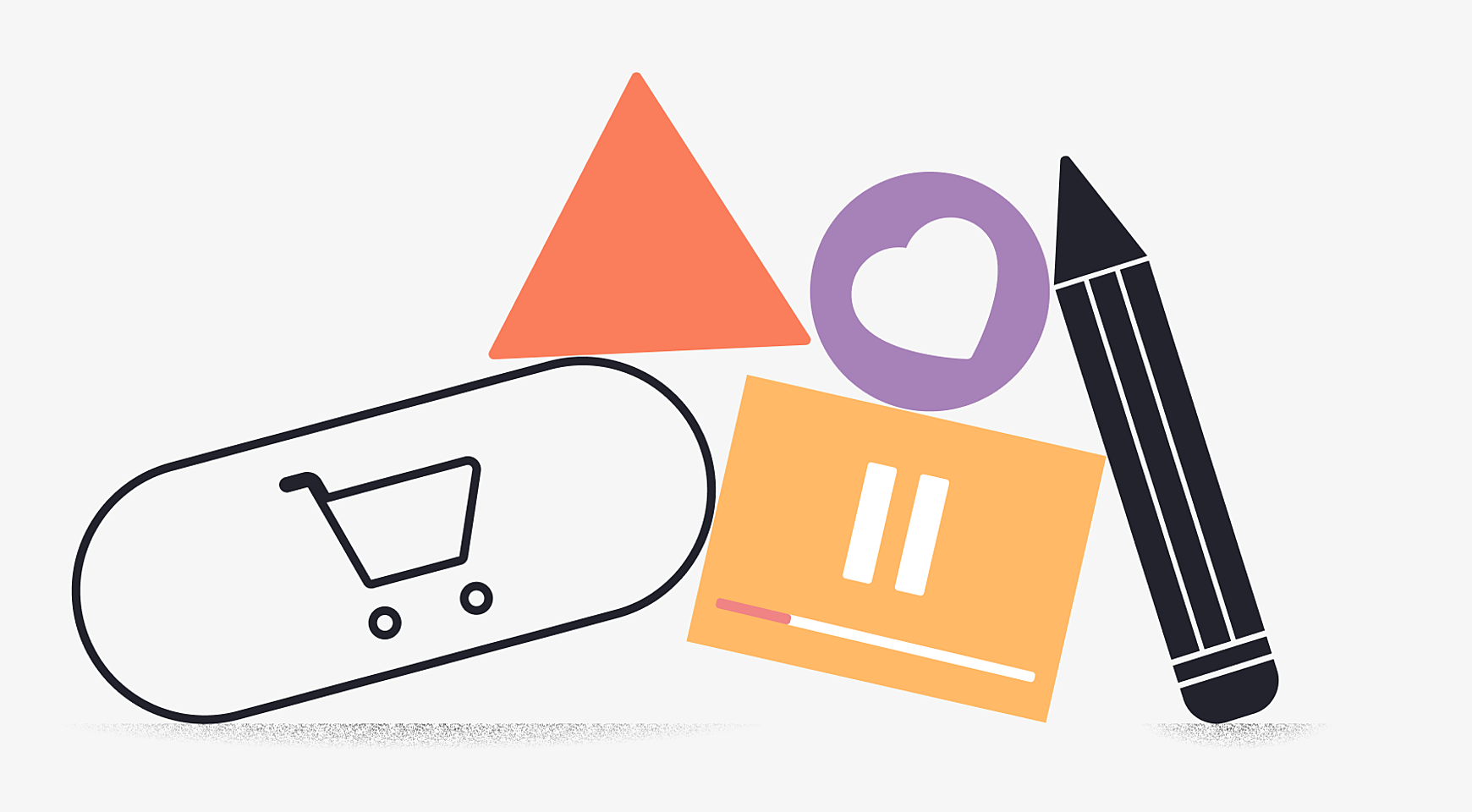 Elearning platform development has become increasingly important in today's digital age. The world loves eLearning. From college students to enterprise-level education―Forbes forecasts for the global EdTech market a bright future that is expected to reach $325 billion by 2025.
But as the interest of users increases, so does the number of players providing eLearning services. This evokes competition, making it a necessity to stay ahead of the curve and offer a distinct functionality to your present or potential users.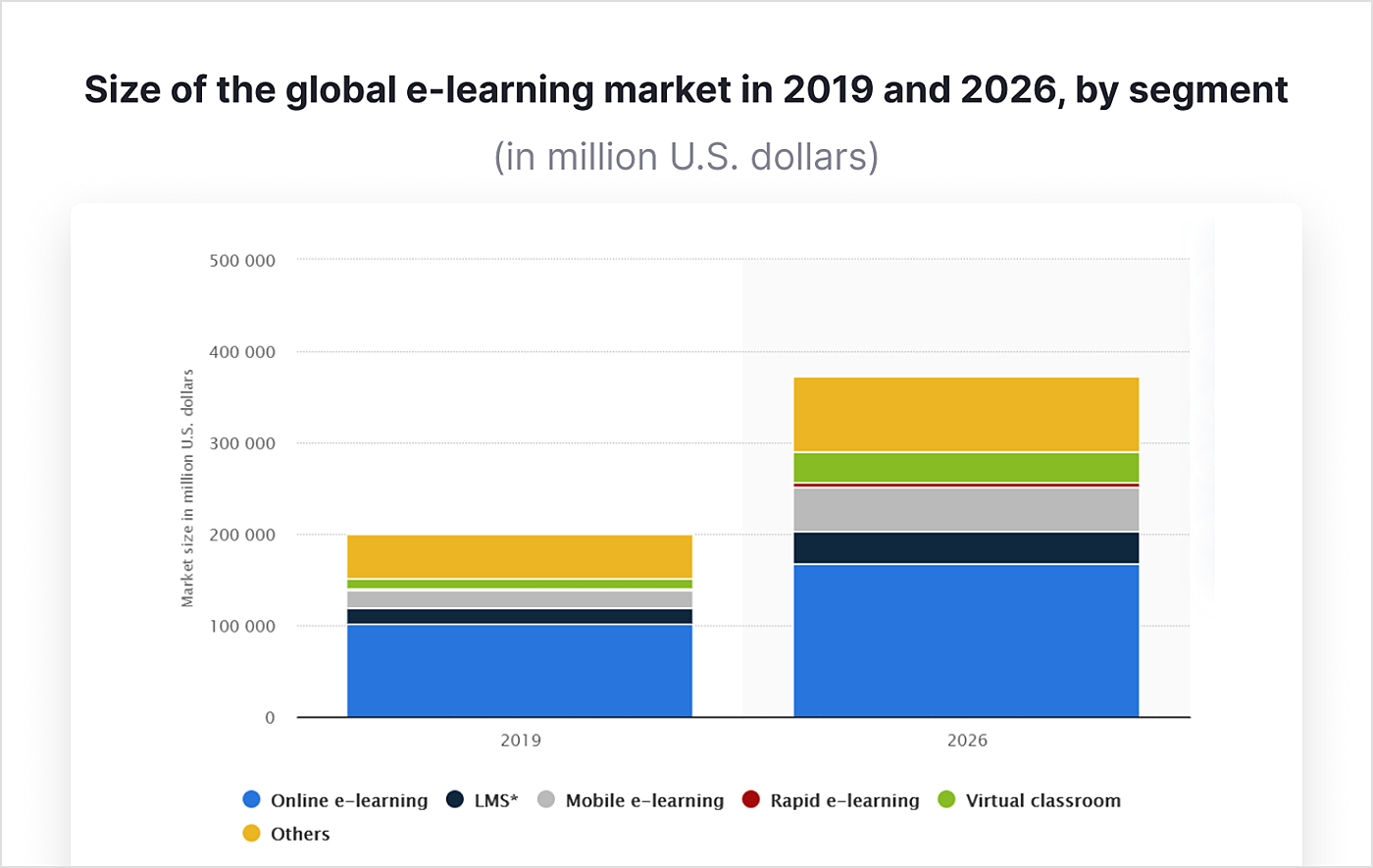 Source: Statista
This article shares insights on how online learning websites work, any functionality your project is missing or must-have, and development costs to create an outstanding eLearning website.
How Do Online E-Learning Platforms Work?
Compared to the scrambled expectations for online learning last year because of COVID-19, today, all the participants involved have a coherent idea of how an online learning platform should operate.
Let's overview what businesses, teachers, and students expect from a newly developed online e-learning platform.


From the Business Perspective
Whether you are nursing an idea to build an online education platform, or you already have an MVP, or a live education project, your project must deliver:
Cost efficiency. Virtual schools are known to be less expensive than traditional brick and mortar campuses. There are no buildings or grounds, and no bills for heating, maintenance, etc. In corporate learning, online education means having a trained workforce while saving on offline classes. It also implies the ability to save on employee and tutor travel and accommodation, extra salaries, etc.
Bigger audience. User-friendly online educational websites reach more users and attract new students from remote locations. To grow, a business needs to expand its customer base and enter new markets.
Accessibility. This is particularly topical for businesses that invest in corporate microlearning. Such platforms allow turning day-release training into when-the-time-is-right training.
Quality learning. Any educational institution is as good as the quality of knowledge it offers. Positive and productive learning experiences help to make a resource viral, and to increase retention and recommendations.
Profit. The variety of online platform types dictates the choice of monetization options. But where does the money come from?
In brief, there are three common ways to monetize an e-learning platform:
Corporate subscription. You can connect with universities and companies and invite them to educate their students/employees through your platform, paying a subscription fee for using the software.
Freemium model. This model allows you to offer free courses but provides optional premium services: one-to-one lessons with a tutor, specific learning materials, and paid certifications. This model fits self-paced courses, as no schedule and no online webinars are required.
Advertising. Advertising in mobile or web applications must not be annoying. However, displaying some relevant audience-specific banners or promoting sponsored courses from companies can be reasonable.
From the Student's Perspective
For some, an online website is a means to get a degree. Other learners go online to develop soft skills, complete employee training, etc., from the comfort of their homes.
Consequently, the online student will expect from an educational website:
Lower tuition costs. Cognition comes through comparison. Online learning brings more affordable classes and courses compared to offline learning.
Flexibility. Online classes introduce self-paced learning, and users can study anywhere and anytime: lunch break, having a coffee, traveling… Any place that has an Internet connection is the right place. Such solutions should run seamlessly on any device.
Online Support. Feedback is motivational, especially from professional educators. Besides instant contact with the tutor during a course, chat support helps to ensure a positive experience with a platform.
Progress reports. The visualized finite nature of studies triggers involvement. Assessment and scoring bring a sense of achievement without the pressure of taking an actual exam.
Networking. Communities are an effective means of gathering like-minded students, creating competition and increasing information retention. Discussions, exchange of questions, and ideas all contribute to more insightful learning.
Certification. The sense of achievement is greater when the learner gets to the end. Printable or sent-by-mail official certificates and diplomas bring the desired feeling of self-fulfillment.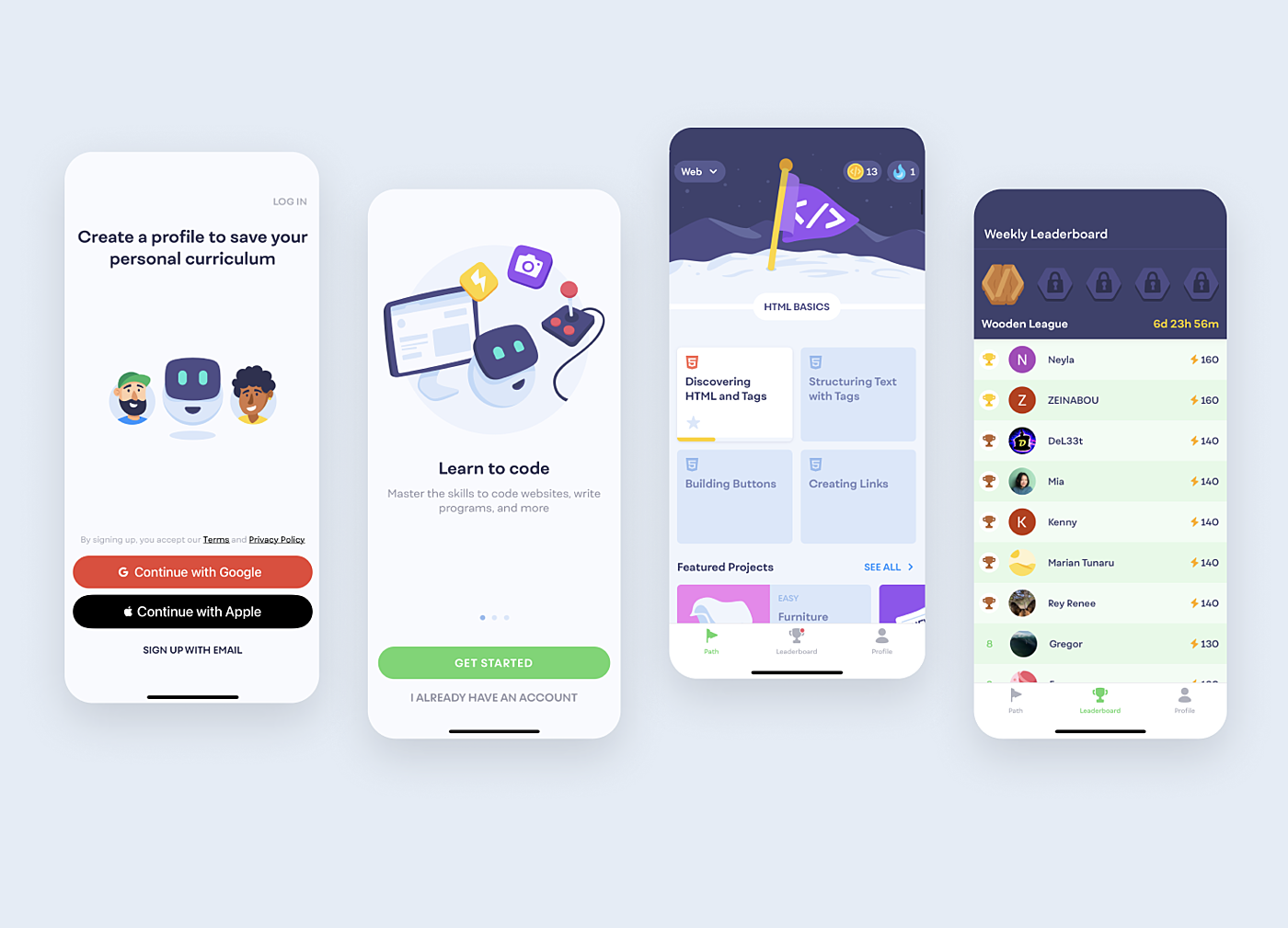 Source: iTunes. Mimo―Microlearning App
From the Teacher's Perspective
Students' expectations such as flexibility and mobility closely correlate with those of the tutor. Distinctly, virtual tutors go by the following benefits:
Worldwide reach. Teachers are interested in developing their portfolios and spreading the word about their classes; eLearning platforms allow teachers to engage with bigger audiences and increase their profit.
Content creation and distribution. Often, EdTech platforms offer integrated drag-and-drop or other constructor functionality to assemble video tutorials and other materials easily.
Multiple knowledge monetization options. During this period of uncertainty, online learning is picking up steam. According to the Distance Education Enrollment Report, over 6 million students are currently involved in online education, and virtual tutors are in high demand.
Simplified digital classrooms management. Online classrooms bring more effective workload management, higher readability of info, and convenient discussion threading. Tutors can attach network etiquette requirements and roles of tone to establish proper communication standards.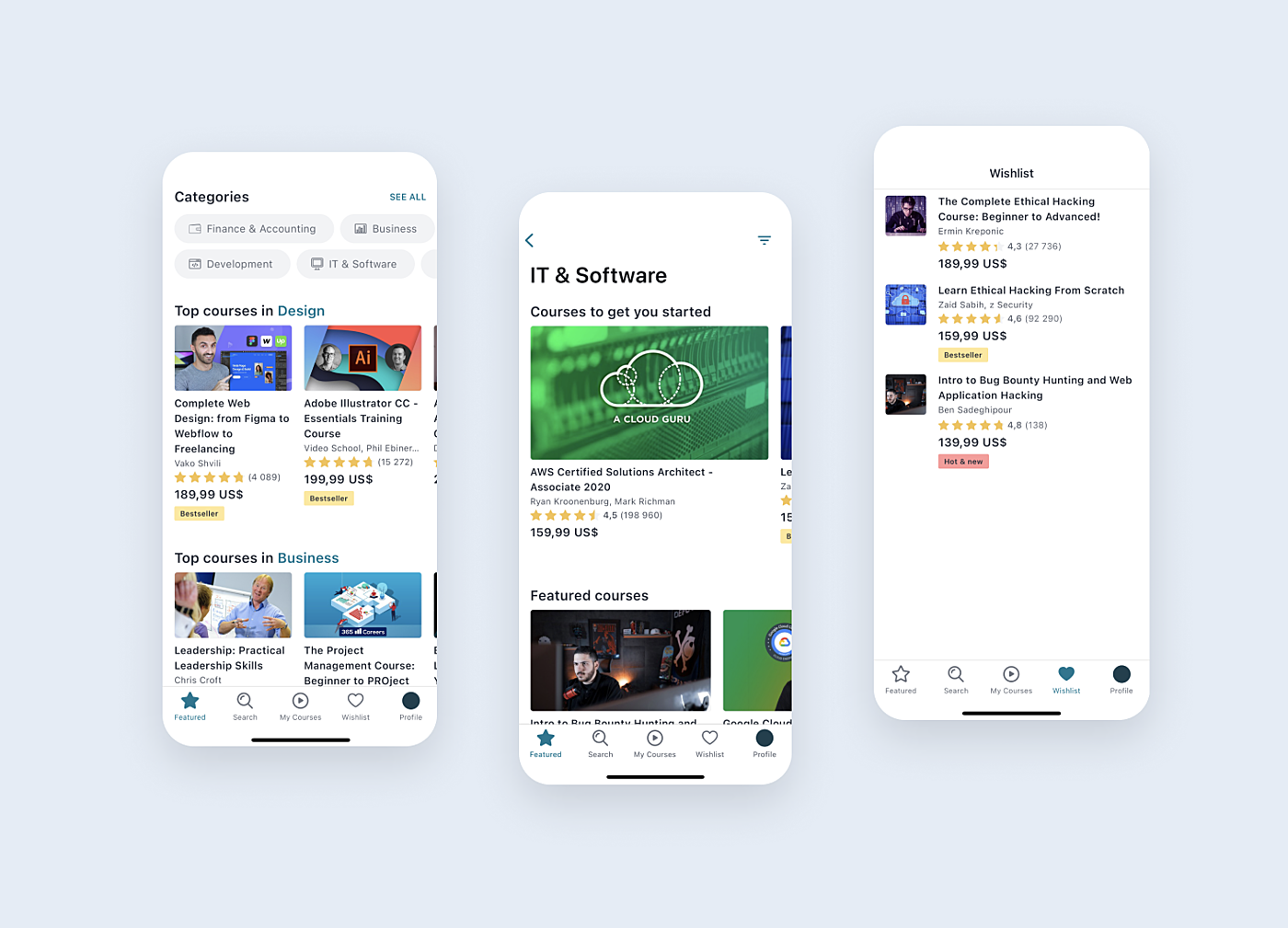 Source: Google Play - Udemy
Must-Have Features for an Educational Platform MVP
Now that you can see it makes sense to create your own educational platform, let's see how it can be used for an eLearning website development.
Work on any MVP starts from a detailed elaboration of a business owner's vision of the project and why their product must be available one the market. You will begin with creating a list of the most critical features to go live. You can create an MVP requirements list for an EdTech project on your own or request assistance from your e-learning development partner.
Read also: EdTech Market Trends That Disrupt Education in 2021
A selection of must-have features for an eLearning website MVP to choose from:
Login/signup
Live video communication
Video courses with playback capabilities
User profiles
Admin panel for virtual classrooms and learning content management
Dashboards for progress and rating tracking
Rating system
Messaging
Course search with a recommendations mechanism
Payment system with various payment options
Support of multiple languages
Notifications
Social sharing to spread the word about your project on social media
At the discovery stage, your e-learning development partner investigates the project's architecture and suggests the most suitable development tech stack.
Thus, the primary goal of an MVP is to collect quality customer feedback including their expectations and any feature requests. It is best to alfa- and beta-test an MVP rather than invest a significant amount of your budget into a product that doesn't resonate with the customer and isn't in demand on the market.
Steps to Build a Fully-Fledged Online eLearning Platform from Scratch
These quick and easy steps will help you build an eLearning website that is distinct and find an experienced software development partner to give you a hand.
Step #1. Validation of Your Idea
As the market swarming with offerings, it is critical to differentiate from other platforms.
Many online courses are notorious for the questionable, thinly-sourced courses they offer. You can step into the industry by offering premium-level, properly checked courses. To ensure this quality, you can collaborate with educational institutions or large companies.
Conversely, you may want to consider building an LMS with AR/VR experiences that remain innovative for the market.
Use assistance from business analysts to validate your idea viability.
Step #2. Targeting the Right Audience
Many courses are quite generic, and most of the quality, in-depth courses are in English. The range of topics within popular platforms like Udemy are restricted.
Finding your audience in unexplored regions, or providing narrow-focused courses for a specific niche may make you a fortune in the eLearning business.
Step #3. Unique Content Creation
Whether you intend to create content independently or share other providers' content, make sure it matches your target audience and fully complies with the plan.
Additionally, with your own custom education platform, you can control customer policies and give publishers better conditions than other eLearning web apps give. The same goes for the intellectual rights of the materials you provide. You know that it's only you who owns the course—no one is authorized to take intellectual property that belongs to you.
Step #4. Professional Consultation
At this point, it's high time to find and contact your software development partner to discuss your expectations, ideas, and requirements. This is optional if you can cover development needs with in-house specialists.
Are you planning to opt for a responsive solution or to build an e-learning mobile app? Or, do you need to combine these two options?
Here, you can discuss whether you want to launch an MVP (and the features it should include), and whether you want to go live by iterations, or in full.
To ensure future successful monetization and flawless operation of your marketing and sales departments, the majority of the required functionality must be forethought in advance and be seamlessly integrated into your project.
Features like AI, augmented reality, virtual reality, live media streaming, microlearning, and gamification can help build an online learning platform that offers highly personalized content and a more engaging user experience. These trends bring advanced measurement of student achievements and better analytics which show how your platform and specific courses are doing.
Step #5. UX/UI Design
Did you know that a good design reduces development costs? In addition, design contributes to your project's revenue and customer engagement.
It's important to know that UX/UI design is an iterative process that commonly includes the following phases:
UX Audit
UX Research
Wireframing
UI Prototyping
User Testing
That's when the potential frontend of your project is being created.
Step #6. Development
This step of creating an e-learning platform is probably the biggest one; it includes frontend and backend development in accordance with the mockups:
The backend part is a server component of a knowledge management system that allows the user to create and deliver courses, manage users, store data, send notifications, etc. You may need various add-ons, plugins, and APIs that connect the system with third-party tools.
According to Freelance, the Udemy backend, for example, is written in Python with an in-house MVC framework that allows them to customize the system according to the changing user needs.
As for the database, numerous educational websites use MySQL. They also use Cloudflare as a content delivery network and Fastly as a cloud platform to manage the significant workload produced by multiple users on the website.
The frontend part involves a user interface that is displayed in a browser allowing learners, teachers, and website admins to complete their tasks.
Udemy's frontend, for example, is dominated by a Javascript, Angular, HTML5, CSS3, and Bootstrap framework.
Additionally, the opportunity to study on the go is priceless for modern learners. The least you can do is embrace users of the web version and allow them to tap into a mobile version. Users will appreciate the opportunity of mobile-only courses enhanced with AR, VR, or other innovations.
Step #7. Testing
Thorough testing is critical for any e-learning project. It ensures that a solution operates in the manner it was intended.
Multiple rounds of testing often take place. In fact, there are various types of testing, but you can choose an appropriate one for a specific project:
Unit testing,
Integration testing,
System testing,
Regression testing,
Acceptance testing, etc.
Once all the stages are over, and your solution is free from bugs, it should be ready for deployment.
Step #8. Deployment
That's the goal that we pursued, i.e., the moment when your educational project goes into the production environment.
The DevOps team will use CI/DI approach to deploy your project more effectively.
Step #9. Support
Often, this step is referred to as maintenance and updates. Based on customer feedback and further internal research, you can fine-tune the system and fix unexpected issues.
Read also: How to Build NFT Marketplace
Features to Amplify Your Existing Online Education Platform
Customers' demands for online education are instantly growing. Insufficient experiences can lead to interruption of studies, platform abandonments, and low ratings.
To stay on the safe side, it's essential to keep the platform's functionality up to date, and in full compliance with the expectations of a modern learner, such as:
Virtual Classrooms
These are online spaces that share some offline classroom features and ensure the possibility of connection for the distance learning participants.
Many courses are missing in-person communication; video-on-demand courses are unable to fulfill this psychological need of a human being. In real-time, students can voice their answers and questions, and interact with teachers and fellow students.
Virtual classrooms often include the following functionality:
Video conferencing
Sub-chats
Video recording
Digital whiteboards
Messaging
Participation controls
Benefits for students: Synchronous learning and simultaneous interaction with a tutor, high interactivity, and collaborative learning.
Benefits for teachers: Student-focused teaching in a less robotic environment.
Mobile Learning
If your project does not have a mobile app yet, it's time to consider developing one. We are living in a mobile-first world.
The following functionality is often included in the development of mobile e-learning platforms:
Push notifications
Gamification
Multimedia content support
Offline learning
In-app networking
Progress synchronization
Benefits for students: Bite-sized information delivery, higher knowledge retention, 24/7 availability.
Benefits for teachers: Flexibility and mobility, simplified communication with the students.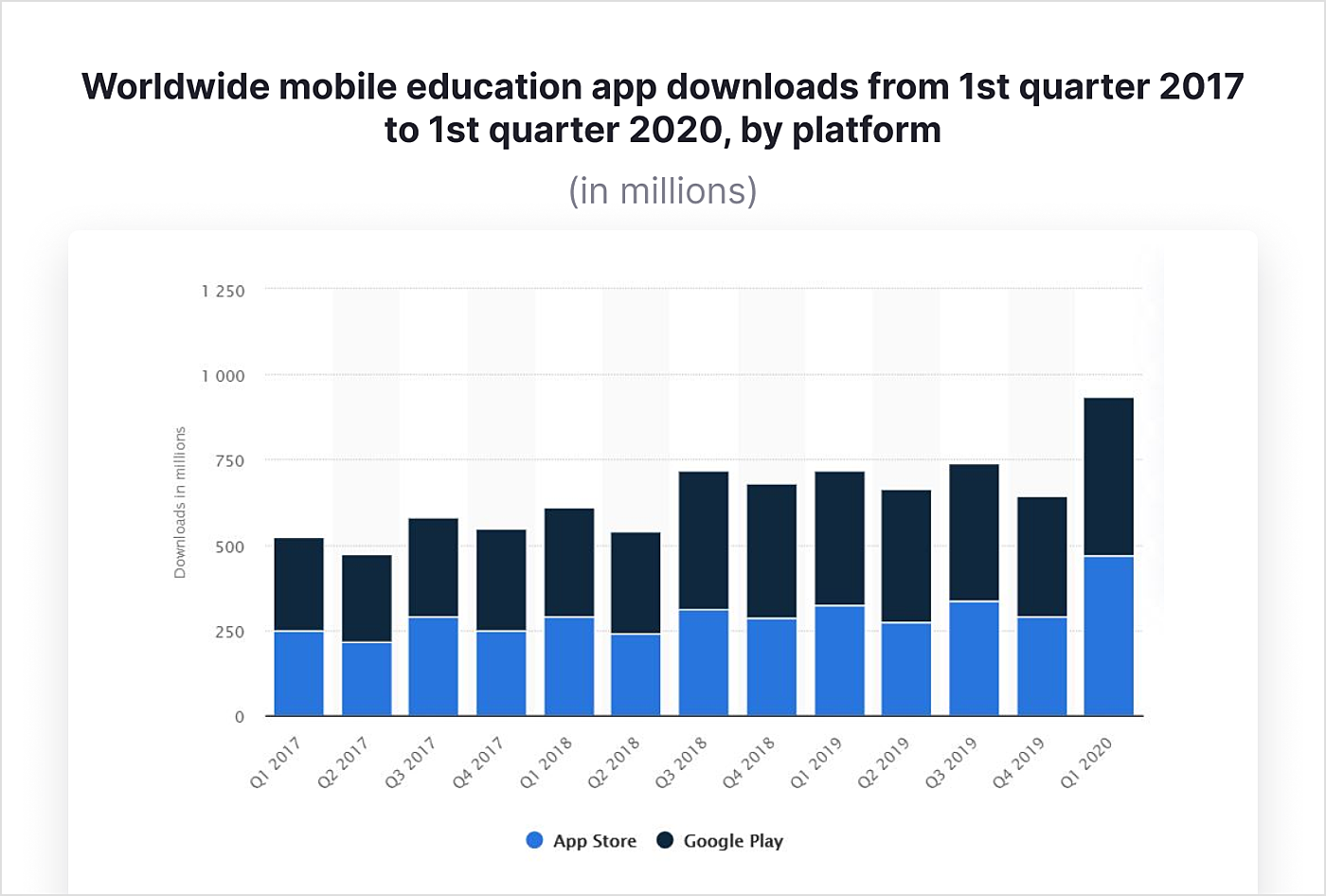 Source: Statista
Adaptive Learning
Adaptive learning is often considered as the future of employee training, since the learning paths are unique for each student. Courses are built to provide just-in-time feedback, pathways, and resources.
Adaptive learning often includes the following functionality:
Adaptive content
Instant analytics
Advanced online assessment
Benefits for students: Personalized learning, more quality progression on course completion, improved understanding, higher engagement.
Benefits for teachers: Confidence-based approach, enhanced learning results.
Challenges of Creating e-Learning Platforms
Creating e-learning platforms can be a complex and challenging task. Here are the main points:
One of the main challenges is ensuring that the platform is user-friendly and intuitive. Users should be able to navigate through the platform easily and find the information they need without any hassle.
Another challenge is creating engaging and interactive content that keeps learners motivated and interested. This requires careful planning and design to incorporate multimedia elements such as videos, quizzes, and interactive exercises.
Lastly, there is the challenge of scalability and technical infrastructure. As e-learning platforms cater to a large number of users, it is crucial to have robust systems in place that can handle high traffic and ensure smooth functionality. Additionally, regular updates and maintenance are necessary to address any technical issues that may arise.
Overall, creating e-learning platforms requires a deep understanding of design principles, technological expertise, and a commitment to providing a seamless learning experience for users.
How Much Would It Cost to Develop an E-learning Platform?
To create an online E-Learning platform, you'll need to follow at least these steps:
Research your audience and subject matter, and then build a UX strategy
Work on eLearning platform design
Create an online learning platform or finalize an existing one
Choose or develop authoring tools, including those for video, audio, graphics, etc.
Connect the system with external tools if needed
Develop a mobile analogue of an eLearning website (optional)
With that in mind, delivering an MVP for an eLearning system can take about 20-28 weeks for implementation and 30-to-45-thousand dollars on average. As for the full version, there are no limits, but it all depends on the business requirements and client needs.
By the way, the cost of the development team for your education website can vary depending on the region and the development milestones, which are generally as follows:
BA and research
UI/UX design
Development
Testing
Release
Post-launch support
Our Experience
The Agente team has been offering custom eLearning development services for over a decade.
Lately, we have taken up some challenging and exciting projects in EdTech, including online learning platforms. Explore some of them below:
LMS for Marketing Courses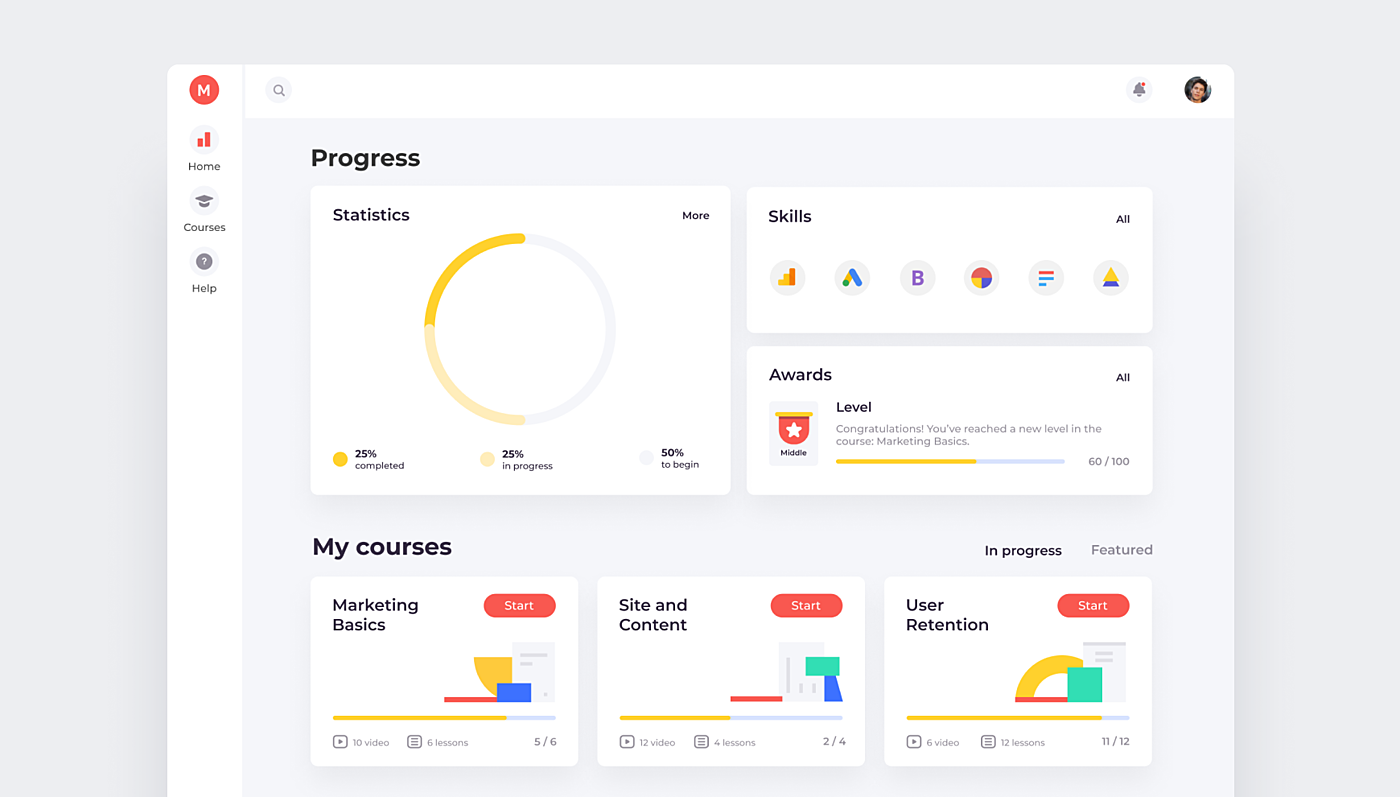 Source: Agente case
This online learning platform for marketing courses offers a modular approach to teaching and learning online marketing.
This project represents a turn-key solution, where Agente delivered UX/UI eLearning website design and LMS software development.
Automation Academy by Workfusion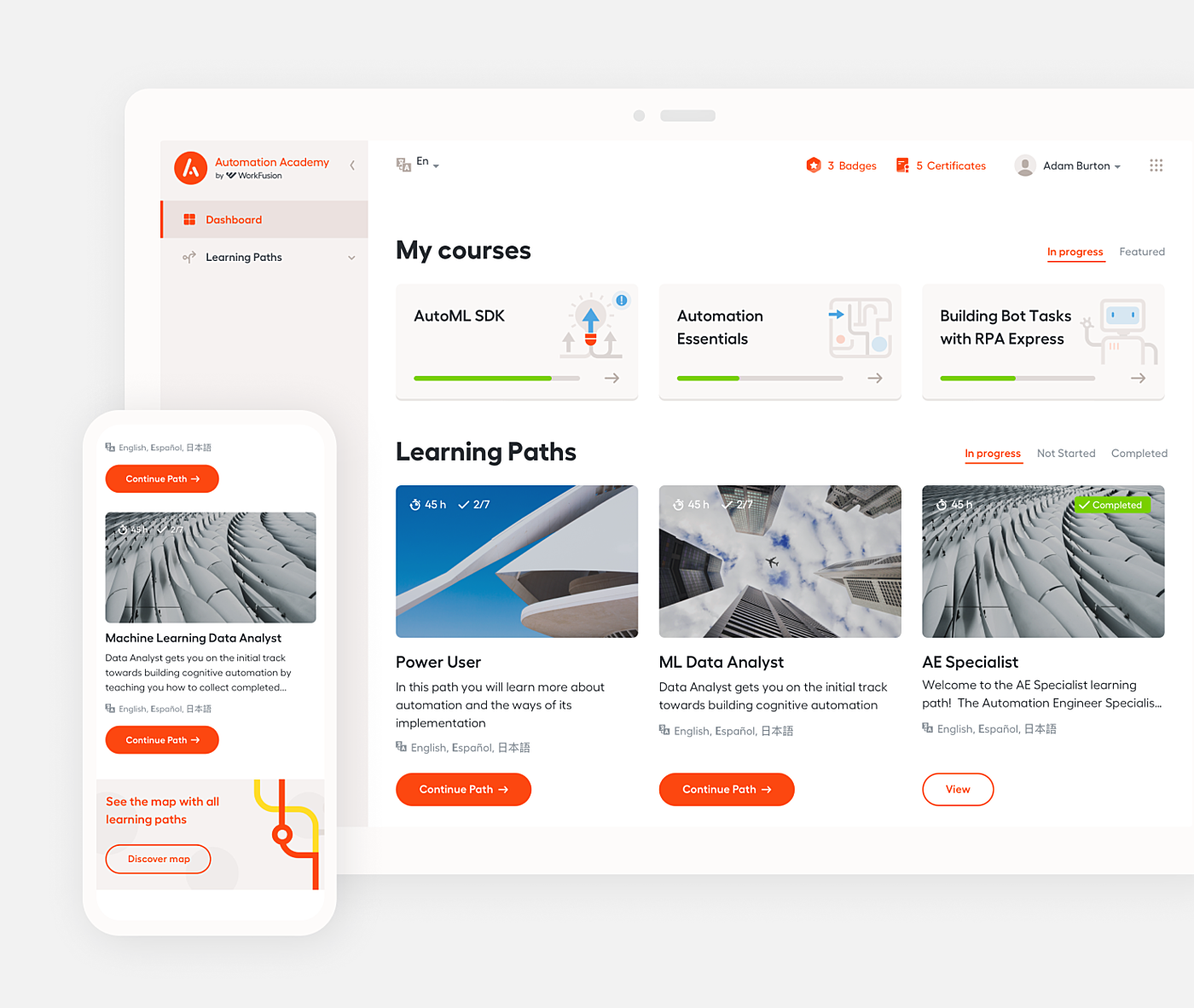 Source: Agente case
LMS redesign undoubtedly boosts user experience and product efficiency. These were just some of the Workfusion Academy redesign goals when they contacted us.
Project Managers and UX/UI Designers of the Agente team made an effort to rebuild the information architecture and user flow in this online learning platform for automation courses.
CHS―High School Website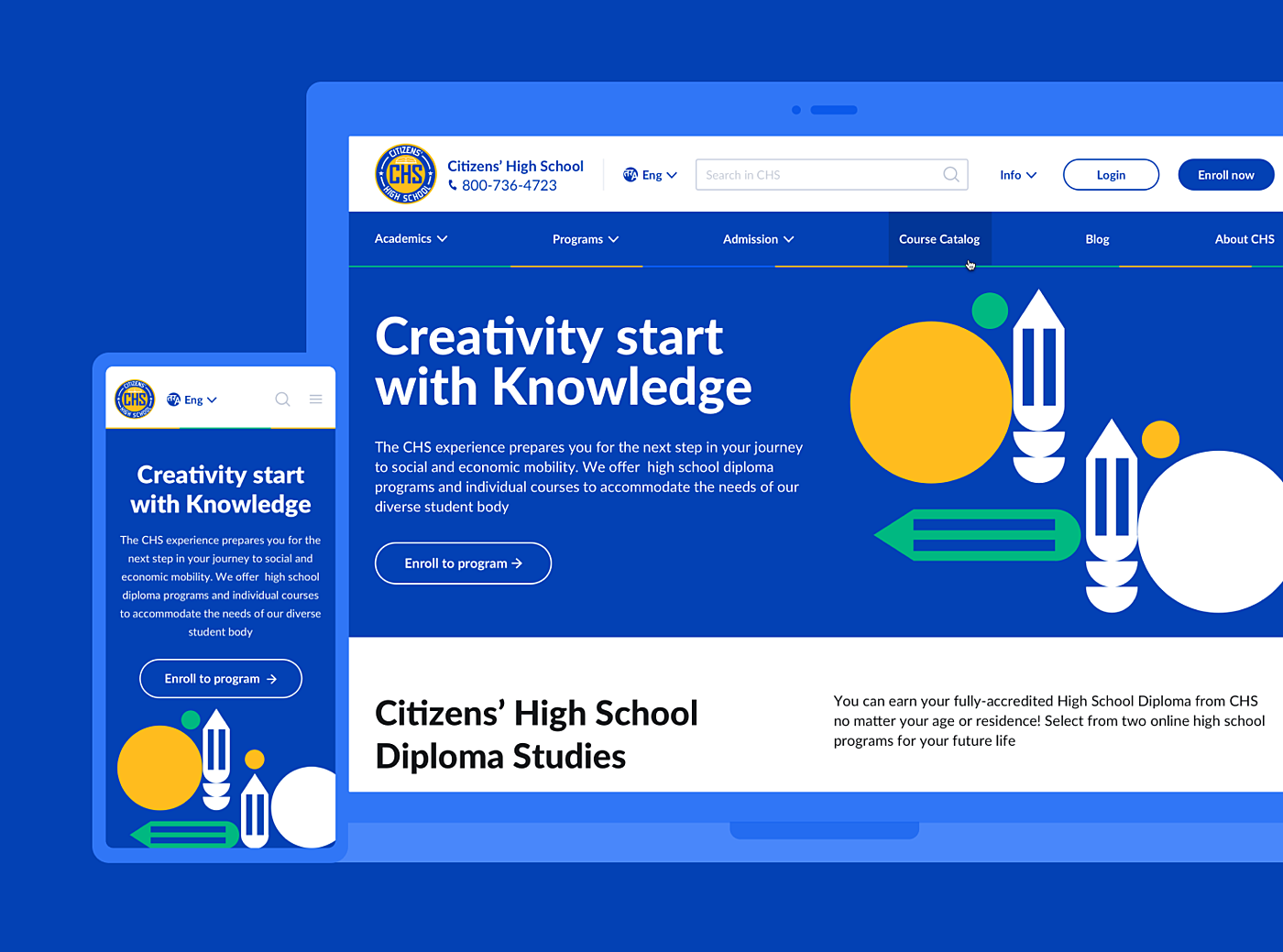 Source: Agente case
The Citizen High School wanted to create an eLearning platform-like experience for its students. They wanted to redesign their website so that it looked intuitive for both tech-savvy and tech-illiterate users.
The Agente team's responsibilities in the CHS project included user research, content audit, wireframing, prototyping, and much more. To learn more about the project, click here.
Academy Dressmakers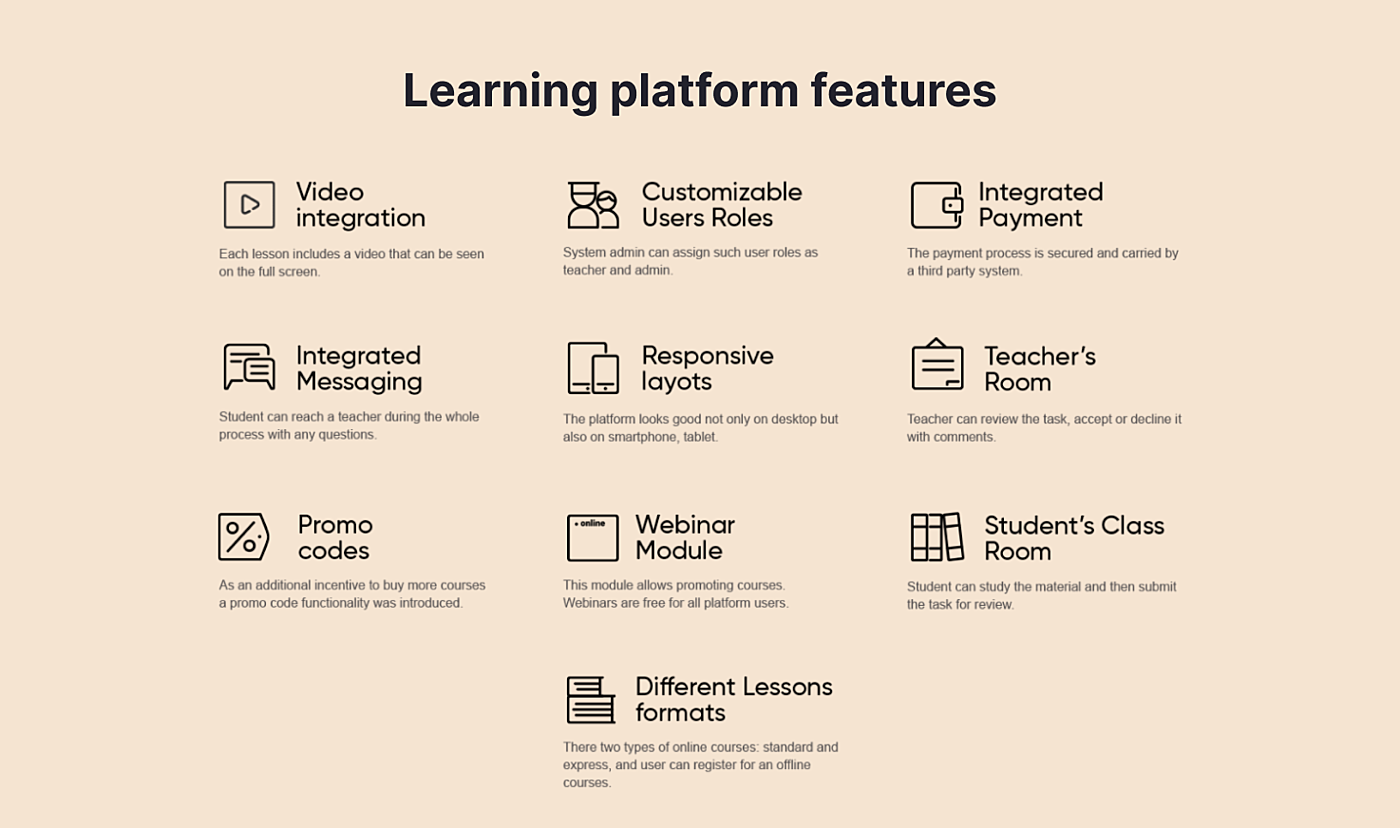 Source: Agente case
Academy Dressmaker is an educational platform that offers video-based lessons for students who wish to learn sewing.
This project is a turn-key solution developed by the Agente team that includes assurance services and support in the project launch. You can explore the case study to learn more about the information architecture that we offered and its added features.
Conclusion
We explained how to build a custom online e-learning platform from scratch and how to amplify an existing project so that it meets the expectations of all those involved.
At Agente, we know how to deliver growth and turn your ideas into game-changing reality. If you want an exact estimate for your eLearning platform or website development project and to create a solution that fits your requirements and budget, feel free to contact us for a quote or book a demo on our LMS.
FAQ
1. What features should my e-learning platform have?
First and foremost, your platform should have a user-friendly interface that is easy to navigate for both instructors and learners. It should also support a variety of multimedia formats, allowing you to incorporate videos, audio, and interactive content into your courses. Additionally, your e-learning platform should have robust assessment and tracking capabilities, enabling you to evaluate learners' progress and provide timely feedback.
2. At what stages of e-learning platform development can Agente help?

Agente can assist at various stages of e-learning platform development. Firstly, we can help with requirement gathering and analysis, understanding your specific needs and goals. Secondly, during the design stage, we can create wireframes and prototypes to visualize the layout and functionality of the platform as well as create a user-friendly interface. In the development stage, the company can build the platform using the latest technologies and programming languages, ensuring that it is scalable, secure, and optimized for performance..
3. How can I monetize my e-learning platform?

Monetizing an e-learning platform can be a lucrative venture if done correctly. One way to generate revenue is by offering paid courses or subscriptions. This can give users access to exclusive content, advanced features, or personalized support. Additionally, partnering with industry experts or institutions to offer certified courses can attract more learners and increase the perceived value of the platform. Another option is to incorporate advertisements or sponsored content into the platform.

Rate this post!
482 ratings, average ratings is 4.4 out of 5
Stay tuned for news
Useful articles from our content team right to your inbox!
Let's talk
Is there a challenge your organization or company needs help solving? We'd love to discuss it.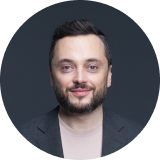 Managing Director, Partner
Andrew Terehin