07 May 2020
What Is mCommerce and How Your Business Can Benefit from It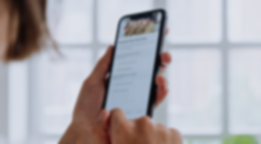 E-commerce is overtaking traditional retail. By 2021, the number of dollars spent on e-commerce sites and apps will hit $4.88 billion. The Coronavirus pandemic also gets in the way. The global quarantine has just caused a spike in demand as people order online from home. Amazon alone is already hiring 100,000 workers. M-commerce as an indispensable part of e-commerce is also experiencing an upsurge. In this article, we'll discuss the pros and cons of m-commerce for businesses and consumers, as well as new tendencies in this sector and the reasons for shop website redesign.
What is m-commerce?
M-commerce (mobile commerce) is a form of e-commerce, the process of selling and buying goods and services through mobile devices such as smartphones and tablets. Most well-known examples of m-commerce include mobile banking, in-app purchasing, virtual marketplace apps (Amazon and eBay), or digital wallets (Apple Pay, Android Pay, and Samsung Pay).

https://agentestudio.com/contacts
How it all began
The term 'mobile commerce' was first coined in 1997 by Kevin Duffey at the launch of the Global Mobile Commerce Forum. The same year, Coca-Cola became the first company that brought the concept to life installing two mobile-phone enabled vending machines in Helsinki which accepted payment via SMS text messages.
In 2000s mobile facilitated payments via SMS were already used in parking, train ticketing, and voting for favorite reality show contestants. SMS payment era gives way to transactions via applications thanks to the advent of iPhone.
In 2017, the use of m-commerce accounted for 34.5% of all e-commerce sales.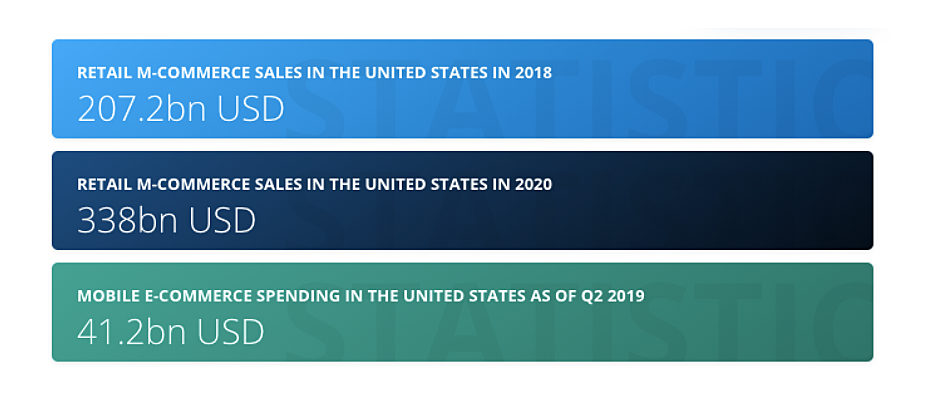 Source: Statista
What are the popular m-commerce applications?
Take a look at the examples of popular m-commerce apps:
Mobile Banking (Ally Bank, Capital One, Chime)
Mobile Ticketing and Booking (Skyscanner, Airbnb, Booking.com)
E-bills, for example, mobile vouchers, mobile coupons, loyalty points (Rakuten, Honey, SavingStar)
Auctions (DealDash, Tophatter, eBay)
Stock Market Reports (Robinhood, Yahoo! Finance, MarketWatch).
By 2020-2025, these applications are expected to register a CAGR of 27%.
Key benefits of m-commerce app development for business
This CAGR tendency makes the m-commerce sector more and more tempting for investors. Now, let's talk about the bunch of m-commerce benefits regardless of the business you are in:
Global customer base
If you are in e-commerce, your potential customers are everyone who has an internet connection. With m-commerce you go further. Your customer can be anyone with a mobile phone on the go. The location doesn't matter anymore.
Faster purchases
Direct customer connection leads to a fast and frequent purchase. Also, apps are generally 1.5 times faster for loading data, and there is no need to pull data from a server. Every further interaction with an app makes customers more comfortable, and it takes relatively less time for them to involve in the next purchases.
Large order processing
M-commerce allows you to accept multiple orders at once. You don't need to funnel customers through a checkout line for a physical transaction that is time-consuming.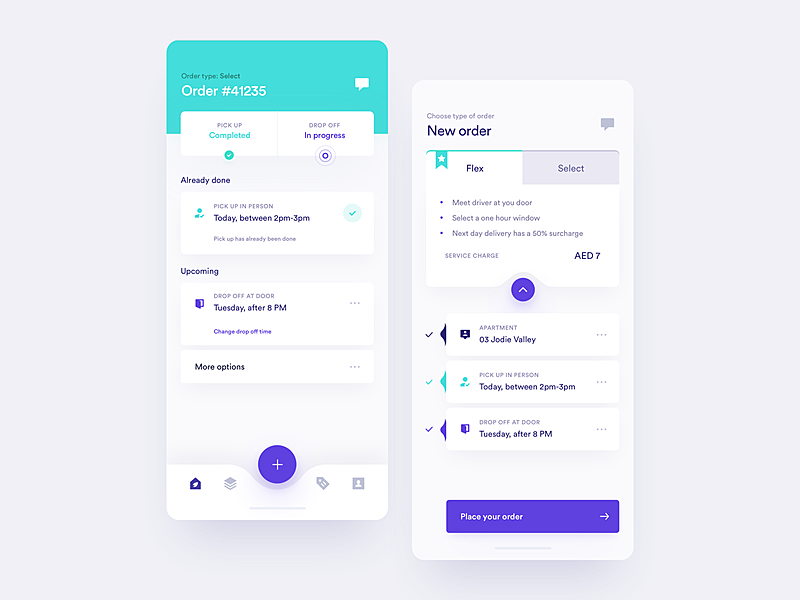 Source: Dribbble
Better customer service
M-commerce apps allow users to ask questions and get notifications when specialists give their answers. It's quicker and more convenient than waiting for the answer online or getting it via e-mail.
Direct connection to customers
Businesses can directly connect with customers through alerts, offers, and reminder messages. Without even opening the app customers can learn about new opportunities and services.
Tailored content
Based on individual preferences and shopping patterns businesses can deliver personalized content. For example, user location, interests, social media profiles, and items viewed can be utilized to offer certain products and services. A good example here is The Amazon app that alongside popular deals always has the deals recommended for you.
Deeper analytics
M-commerce gives you the opportunity to get to know your customer much better. The data like age, sex, location, phone numbers, emails, and buying patterns will help to deliver better customer experience and ultimately will bring higher ROI.
Reduced cost of maintaining the business
App development, maintenance, and support are 20% cheaper compared to a web store. For example, an app that has cost you $70,000 you would have to spend just $14,000 annually for support.
Better promotion
Mobile apps allow you to reach your audience faster (mainly due to social media integration) and cut down marketing campaign costs. Some businesses even earn from placing ads within their apps.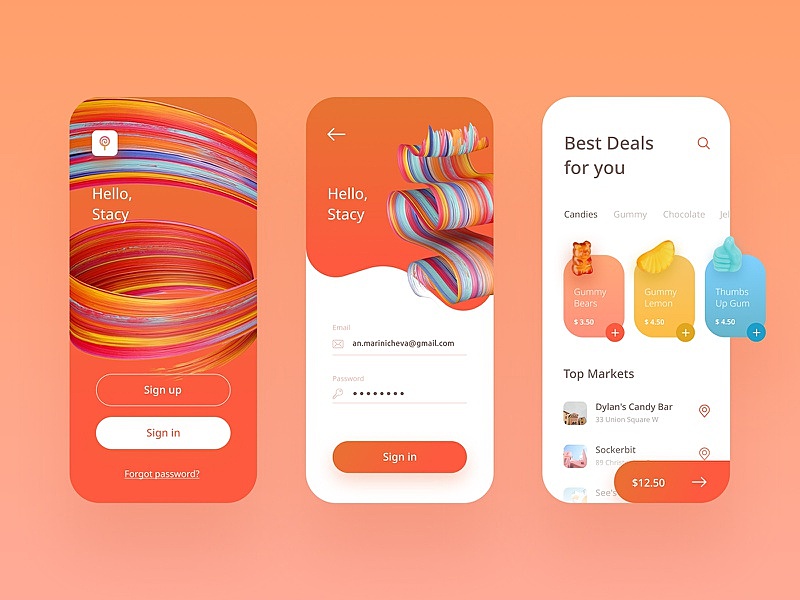 Source: Dribbble
Scalability of business
M-commerce presence allows you to scale your business to meet current needs. There's no need to add new space or inventory for shoppers because everything is available online and you can save this money for an advertising.
More chances for remarketing
At a physical store, customers can change their minds about a product or service, put the product down and walk away. M-commerce platforms allow businesses to remarket the items abandoned in a cart.
Challenges of m-commerce app development and how to overcome them
Despite the numerous advantages of m-commerce apps, businesses should be aware of the risks they present:
Data privacy concerns
The more consumer data you have access to, the higher the responsibility to protect it you have. That's why it's obligatory to make sure any marketing partner you work with has a clear set of user terms and is compliant to TAG and MRC standards so that customers could know exactly how their data is being collected and shared.
Worldwide competition
Global reach allows you to get more customers but at the same time tougher competition with thousands of businesses in your industry. To gain a competitive advantage, retailers need to find a niche or market to focus on.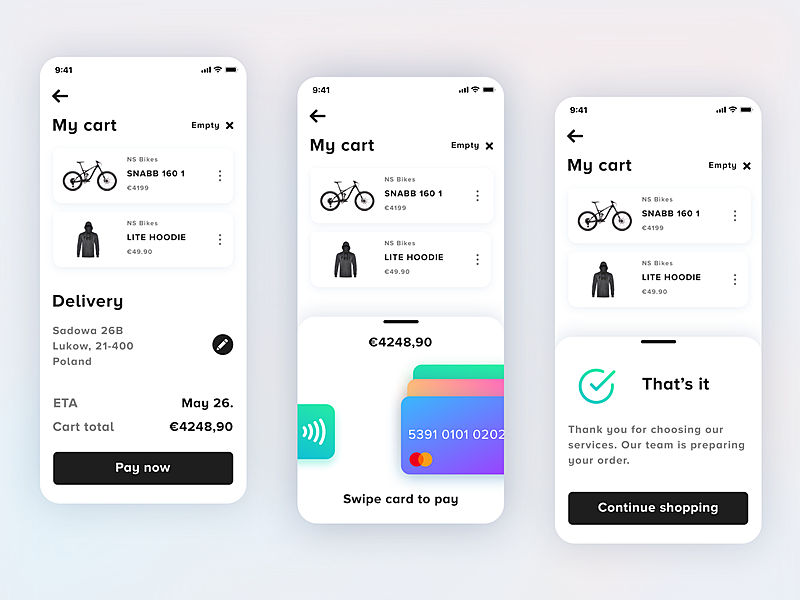 Source: Dribbble
Bandwidth
With the increase in mobile users, service providers may find it difficult to provide services on the existing bandwidth because it becomes too bulky to accommodate the signals. In this case, the services may not be available for the user for some time. This situation may lead to the loss of a customer. You have to prepare your servers beforehand to handle the bandwidth issue.
Shipping costs
You need to cooperate with third-party shipping companies. If the shipping company fails to deliver on time, your reputation will be questioned because usually, consumers blame your business, not the shipper. There's no surefire strategy to eliminate this disadvantage. All you can do is to work with reputable shipping companies.
Unknown/unexpected factors and fees
It could be anything from the upgrade of your mobile app to international shipping. That's why it's important to do your research and plan how the key features of an e-commerce website will migrate to your mobile laylout at least six months in advance.
How users benefit from mobile shopping apps?
Cost reduction
Loyalty and referral programs on apps allow getting products and services at reduced prices. What's more, customers are informed about the new offers and discounts.
Availability
With mobile apps, customers do more research and engage more. They can access information quickly, get instant responses for queries, get live chat assistance, demo videos, detailed pricing, discount information, out of stock notification, service details, and much more.
Our experience
We've been in the mobile development business for quite a while and have helped a number of businesses to create m-commerce apps that engage consumers. Take a look at some of our projects.
Tkit
We designed and developed a multifunctional iOS app for event management and online ticket booking.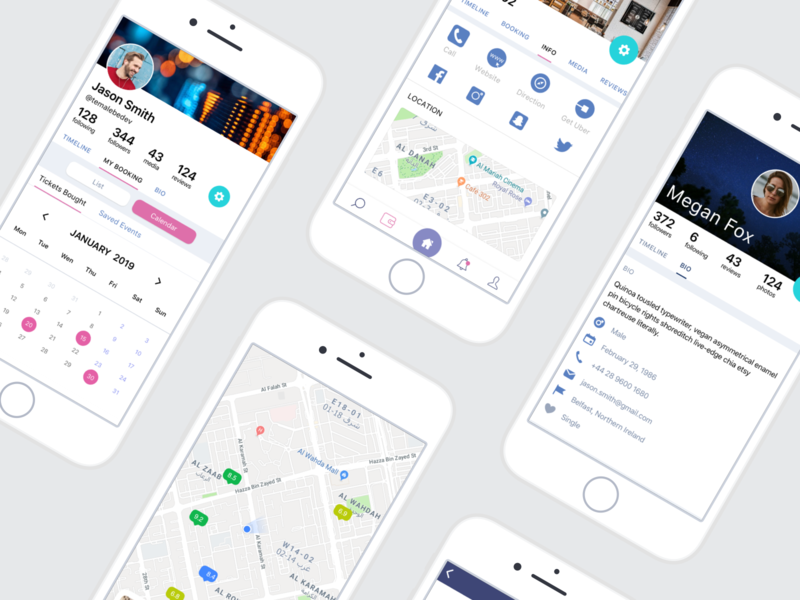 Source: Agente
Furnique
We created an adaptive user interface for a large online furniture retail marketplace. The marketplace contained thousands of product names, dozens of categories and brands, but its interface was outdated and its backend system was difficult to use.
Read also: Best Furniture Website Design Examples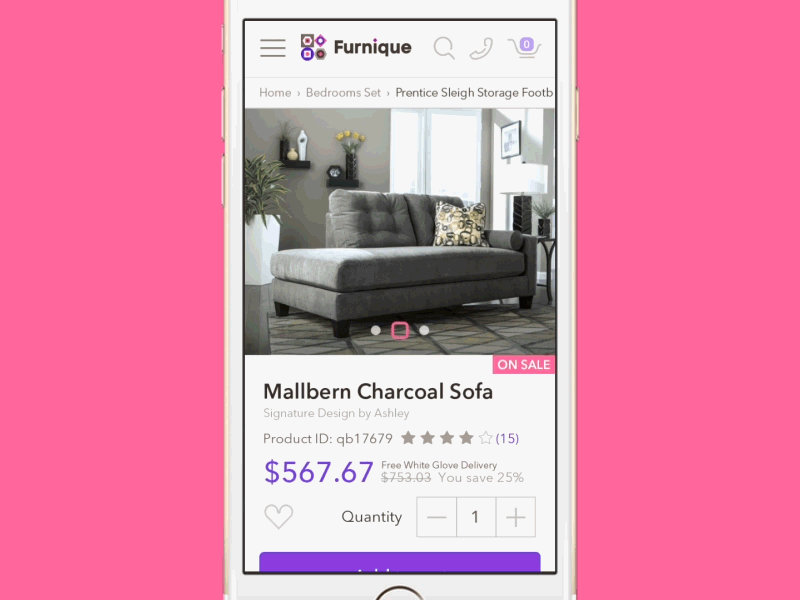 Source: Agente
---
Apparently, mobile commerce is going to continue growing, attracting more users and generating more sales. If for some reason your business doesn't have a mobile app, it's high time to go for it. Agente is ready to involve in the process and transform your ideas into a cool m-commerce app.
Rate this post!
304 ratings, average ratings is 4.0 out of 5
Stay tuned for news
Useful articles from our content team right to your inbox!
Let's talk
Is there a challenge your organization or company needs help solving? We'd love to discuss it.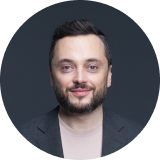 Managing Director, Partner
Andrew Terehin