20 February 2023
LMS Software & AI: How to Boost Learning Performance in 2023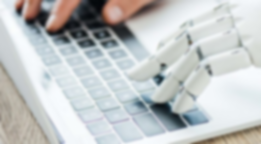 Artificial Intelligence has long been around: Google AI-Powered predictions, Ridesharing apps like Uber and Lyft, Spam filters, fraud prevention, and more. Learning management systems are a bit late to the party but have already started to improve the learning process by using artificial intelligence. According to Markets and Markets, the global LMS market size is expected to skyrocket from USD 13.4 billion in 2020 to USD 25.7 billion by 2025, at a CAGR of 14.0% during the forecast period. AI is one of the major growth drivers for the market.

In this article, we'll talk about how LMS may benefit from adopting AI and demonstrate AI and LMS real-life use cases.
Why Businesses Should Adopt AI in LMS Software
Artificial Intelligence-powered learning platform showcases drastically improved user engagement and quality of learning experience because the platform is tailored to the learner. You may think that your business LMS works fine, and it totally suits learning designers and managers. But does it cut it for the actual learner?
If your system focuses only on complex issues like onboarding, competency mapping, reporting, and learning plans, it may have poor navigation and unintuitive interfaces. In this case, you don't put learning at the center. Learners expect quick responses to their questions, easy collaboration, and a personalized approach. That's where AI comes into play.

Here's what you get with AI adoption:
Improved eLearning ROI
Less online training time and enhanced personalization translate into a broader profit margin. Learners spend less on online training without sacrificing the desired outcomes. All thanks to predictive analytics and AI-equipped software tracking every move on an online learner.
AI gives you the power to deploy your online training resources where they're required. For example, AI algorithms reveal online training gaps. You can respond to that by funneling online training resources to address the inefficiencies.

Personalization of Learning
AI ensures personalized experiences for each learner by analyzing their behavior, preferred learning format, and courses they've interacted with most. This information is used to understand what's most productive for a learner and then offer courses that fit with this to produce a more effective pathway to information retention.
Personalization results in:
Highly intuitive content. It is delivered to the user in the most efficient way to solve learners' problems. The ability of prediction and adaptability of the AI allows the content to create a relationship of high engagement between users and the topics they study in the language they prefer. This transforms into more user-friendly content material, which provides interactivity elements according to their tastes and level of knowledge.

Source: www.edapp.com
Higher quality of content. AI analyzes and optimizes the content previously taught for the benefit of the student. Content creators gain access to data on student progress and the level of understanding they achieved while taking the courses. This way, they can quickly help learners who are stuck on a certain topic.
Improved learner motivation. Learners receive an individualized experience instead of a generic course that touches on irrelevant topics. That's why they don't have to dedicate as much time to the online training process, but can still accomplish their goals and build vital skills.
Faster progress gives learners the added motivation they need to engage with the eLearning content and reach their goals. Learners also appreciate the ability to go at their own pace and participate in eLearning activities that resonate with them.
Better Resource Allocation
There are two basic benefits relating to resource allocation. The first is that learners receive the exact online resources they need to fill gaps and achieve their learning goals. It equates to less seat time and training payroll hours.
Employees quickly get the information they need, as every online training resource is tailored to their personal objectives. The second benefit — better resource allocation for your L&D team. They spend less time analyzing graphs and LMS metrics and have more time developing powerful eLearning content.
What's more, better resource allocation promotes more efficient learner management. Implementing AI in learning can support your training managers by giving them relevant data to make decisions. It also helps them with suggestions on what will work and what will not.
Read also how to build Udemy like website.
How to Use AI in Learning Management Software
Gamification
Gamification means incorporating gaming elements into everyday situations. This is probably a top feature that makes learning management systems stand out. The design and implementation of the gamification tool are becoming more engaging as it comes more easily, thus making LMS more friendly for the users.
Gamification in e-learning creates competition and fosters cooperation between learners with the help of key game mechanics:
Points. This is the most basic game mechanism. Learners earn points by going through a course or to mark an achievement. Points are usually linked to some other reward. For example, when learners get enough points they get a badge, level up, or appear on a leaderboard.
Levels. Leveling up unlocks new opportunities: new skills, new courses, and new fields to explore. In a gamified LMS, learners can level up by completing tasks and gaining access to new learning materials. Another way to advance is through levels by earning points (think credits) for simpler modules and unlocking more challenging ones.
Badges. They are awarded for accomplishments. When learners gain badges, they earn the right to display them alongside their username. A gamified LMS displays badges on leaderboards and when learners interact, for example in forums or messaging apps.
Progress bars. These are a visual indication of what learners have already accomplished, and how much is left.
Leaderboards. Such boards demonstrate the most diligent learners:

With the most points
At the highest levels
With the most badges
Who has made the most progress.

Learner Interaction. Peers can be powerful motivators when learners are cooperating, discussing new ideas, competing, or just showing off their accomplishments.
Real-life Examples
Academy LMS
This Artificial Intelligence-powered Learning Management Platform is designed by Growth Engineering entirely around gamification. Its core features are
Badges
Points
Leaderboards
Social learning.

Source: capterra.com
Accord LMS
This LMS also has a number of gamified features, such as activity points, leaderboard, badges, and a points-based reputation system that displays how knowledgeable an employee is compared to their colleagues.
The platform allows community managers to have access to analytics across courses, giving insight into how learners are interacting with courses.

Source: capterra.com
Virtual Tutoring
AI in the LMS system develops virtual tutoring tools based on the interactions with the user. Thus, the LMS creates a communication channel that, depending on the scope of the AI technology, can interact with the user through virtual tutors.
They can act simulating human experiences through the voice or even generating an avatar or hologram allowing the LMS to give various responses: verbal, gestural, and physical. Virtual tutoring technology is designed to solve the problem of tutor shortage.
Read also how to make an online course website.
Chatbots
Workplace learning benefits greatly by having someone that assists them directly while they are progressing through lessons. Having an AI-powered bot to handle this is more economical as opposed to a human assistant. What's more, the LMS AI Chatbot feature is designed to fight the isolation learners are subjected to when they are in the training process. Chatbots can address the learner queries, provide help, respond to natural language requests, and tailor information based on performance.
Chatbots throw the following types of information:
Shows learner's current courses as user
Tells you what you should study or do next
Shows upcoming events or deadlines
Displays grades and other achievements
Shows users' history and how many courses have been completed
Personalized FAQ's
Live chat to review past lessons
LMS AI Chatbot capabilities:
Learning Assistant
Time Saver
Data processor
Helpdesk/Support
Personal Assistant
Academic Counselor
Friend – Online mate


Source: Dribbble
Admin Task Automation
AI empowers LMS to recognize speech, translate texts, analyze data, and even make decisions. For example, LMS can automatically tag learning content, translate course content into multiple languages, or suggest courses that are relevant to each learner.
Administrators can have virtual assistants which serve as intelligent guides. A virtual assistant can handle many tasks like offering feedback on the relevance of the new publications, defining user roles and common queries of learners. It speeds up fixing issues avoiding distraction to the learning flow.
AI can deal with all the repetitive tasks making the entire enterprise learning process more productive.
Automated Scheduling and Content Delivery Process
Artificial Intelligence can schedule coursework for online learners or deliver online resources based on their eLearning assessment results. AI can also automatically generate unique eLearning course maps for every learner who enrolls in your eLearning course, and readjust their eLearning course immediately whenever the need arises.
For the Finale
AI-powered LMS enhances content-delivery by providing personalized education. It significantly improves ROI, because LMS users spend less time on learning and acquire new skills quicker.
Although AI brings the Learning Management Systems to a new level, it won't be so effective without a user-friendly design of the platform.
Agente pays particular attention to the design and user experience strategy to make sure every feature of your interface is meaningful. Reach out, if you are looking for a custom-tailored and AI-driven LMS.
Rate this post!
438 ratings, average ratings is 4.6 out of 5
Stay tuned for news
Useful articles from our content team right to your inbox!
Let's talk
Is there a challenge your organization or company needs help solving? We'd love to discuss it.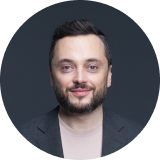 Managing Director, Partner
Andrew Terehin